VIHTAVUORI N160 RIFLE POWDER FOR LARGE & MAGNUM CALIBER HUNTING
Vihtavuori's N160 rifle powder is especially suitable for large and magnum calibers (especially belted Magnums) starting from 30-06 with heavier bullets, .243 Winchester, .260 Remington, 6.5 Creedmoor, 6.5×55 SE, 7 mm Weatherby Magnum, .300 Winchester Magnum, .338 Winchester Magnum and all the Winchester Short Magnums. It also fits large capacity/small bore cartridges like the 6.5-284 Norma.
N160 is a tubular powder type with grain dimensions of 1,3 mm length and 1,1 mm diameter. The burn rate of is medium to slow on the scale of our rifle powders. The N160 is commonly used for big game hunting ammunition especially with heavier bullets.
Reloading recommendations by our pros
The N160 is a great solution for handloading a long-barreled 6,5X55 SE caliber rifle using using eg. a Lapua 6,5 mm GB458 9,0 g / 139 gr OTM bullet. The Vihtavuori N160 provides excellent case filling and a reasonable speed for accurate firing to up to 800 yards / meters.
For 6,5X55 SE applications we recommend trying:
Load of 2,90 g / 44.75 grs
Bullet: Lapua 6,5 mm 8,8 g / 136 gr OTM Scenar-L
Cartridge overall length 78,0 mm / 3.071''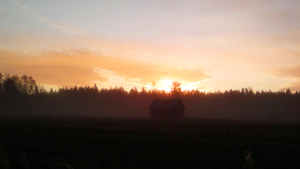 "The black grouse season had just started. I was hiding in a young forest by a large field with my 6,5X55 SE rifle, waiting for the birds to come and begin their autumnal courtship display in the field. And suddenly, there they were, visible in the sky in the direction of the sunrise, a big flock of those beautiful black forest birds. They landed pretty far away, approximately 320 meters from my position. I thought to myself, I won't get a single one if I don´t try! So I placed my rifle on my backpack, took aim and fired. The bullet hit the ground just in front of the bird I was aiming at and the whole flock leaped up on their wings.
Can´t be, they are flying away! But no, thankfully they just made a short flight and landed back in the field to continue with their mating rituals. So, I got my second chance – just 2 more clicks up, aim, fire and snap! Nailed it!
When you know you can trust your gear, it´s that easy to go home with a nice black grouse in your backpack."
The Vihtavuori N160 rifle powder is available in 1 lbs, 1 kg and 3,5 kg containers, and in the USA also in 8 lbs canisters.