Agency Arms Glock Compensator Overview
The Agency Arms 417 Compensator(Agency Arms Glock Compensator ) is threaded with the standard 1/2×28 thread pitch. It features a single top venting port and it also features a front sight hole. It is designed to utilize the OEM recoil spring assembly and the front sight hole allows you to transfer your existing front sight from your slide to the comp. Compatible with the 17, 19, 26 and 34 Gen 3.
Will a Gen 4 compensator fit a Gen 3?
Machined from 7075 aluminum, the Agency Arms 417 Compensator fits all Gen 3 and Gen 4 models of the Glock G17, G19 and G34. The muzzle device features a two-chamber design, featuring two vertical ports as well as two ports that vent off to the side. Options are available with both black and gold finishes.
Are compensators illegal?
Although the included muzzle device is typically a flash suppressor, some jurisdictions cling to antiquated and ill-informed laws that regard these devices as an "evil feature," whereas a muzzle brake or compensator is perfectly legal.
Is a compensator worth it?
Compensators can be very effective at reducing felt recoil and muzzle rise. This aids in getting the sights back on-target more quickly. Some shooters also feel compensators can help them reduce the chance of flinching due to the reduced perceived recoil.
Includes
417 Comp (Generation specific)
2 Set Screws with an Allen Wrench
Vial of Rocksett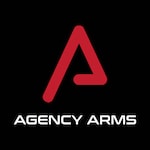 Made In United States of America