Agency Arms Glock 43 Comp Overview
The Agency Arms 417 Compensator(Agency Arms Glock 43 Comp ) is a high performing and uniquely designed component for Glock pistols. 417 Compensator  precision machined from high quality aluminum and features a seamless 1/2″-28 thread design. The 417 Compensator helps to disburse gases away from the shooter creating enhanced control over the firearm. The 417 Compensator is a great choice for anyone serious about upgrading their Glock pistol!
Notes On Agency Arms
Installation – Thread the 417 compensator onto your threaded barrel and ensure it is timed flush to the slide. Install recoil spring guide rod making sure it fits securely in the compensator guide rod channel. Treat set screws with thread locker and tighten. Finally, check the guide rod for secure fitment in guide rod channel.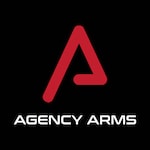 Made In United States of America