Agency Arms 417 Comp Overview
The Agency Arms 417 Compensator(Agency Arms 417 Comp ) is threaded with the standard 1/2×28 thread pitch. It features a single top venting port and it also features a front sight hole. It is designed to utilize the OEM recoil spring assembly and the front sight hole allows you to transfer your existing front sight from your slide to the comp. Compatible with the 17, 19, 26 and 34 Gen 4.
What is a mass driver compensator(Agency Arms 417 )?
The Strike Industries Mass Driver Compensator (MDC) represents a quantum leap in compensator design. … The Mass Driver Compensator is driven by the hot gasses expelled through the barrel after the round is discharged, and acts as a counter balance system to attenuate mechanical recoil.
Includes
417 Comp (Generation specific)
2 Set Screws with an Allen Wrench
Vial of Rocksett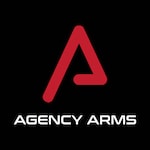 Made In United States of America